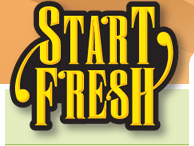 Home

About Us

Contact Us

Why Join?

Kosher Club

Veggie Vibe

Fitness Front

Cook Nook
Get our weekly
e-newsletter with recipes, tips
and holiday planning.












What Do I Get As A Member?

As a StartFresh.com member you'll get 24-hour access to a kosher, healthy and customized program tailored to your personality profile and needs.

You'll also get a lot of other good things, like:

The ability to diet in private.


24-hour access to your food plan when it's comfortable for you.


Two different food plans to choose from
for your convenience.


Unlimited Support from our experts.


A selection of 500 delicious meals, carefully planned for you to enjoy.


Our taking into account all your concerns about eating the Kosher way.


Special Sabbath and Holidays meals and suggestions.


Non-Chametz meals for Passover.


Out of this world recipes accompanying
your meals.


The ability to create a printable shopping list from all the meals already set up for any given date range.


Many features in the Recipe library (in Cook Nook) which are not available for non-members (e.g., the ability to save recipes and create a shopping list).